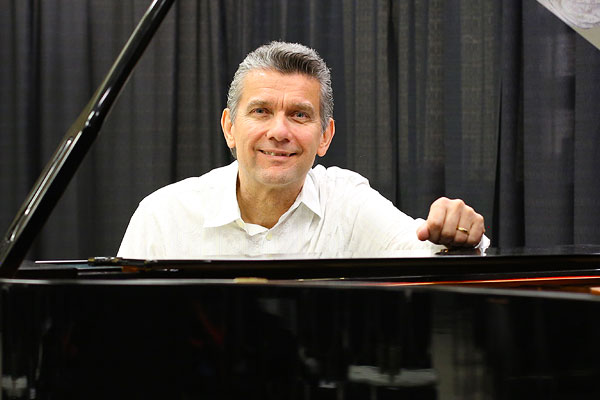 Canadian pianist EDWIN GNANDT enjoys a successful career with over five hundred appearances as soloist, accompanist, adjudicator, and workshop clinician. He has been praised by the San Francisco Examiner for his "consistently alluring sound," by the Oakland Tribune for his "ear for phrasing," and by the Los Angeles Times for his "distinct refinement." Mr Gnandt's performances have taken him throughout Canada and the United States as well as to Russia and Scotland. Recent appearances include St Petersburg, Russia; Denver, Los Angeles, San Diego, Seattle, and Vancouver.
Chair's and presents at major International Conferences such as the IJAS (International Journal Arts & Sciences) conference at the University of Venice, Italy (2016); the IJAS conference in Barcelona, Spain (2015) and the HICAH (Hawaii International Conference on Arts & Humanities) in Honolulu, Hawaii (2015).

Was invited as a visiting Professor of Music at Asuza Pacific University in Los Angeles, California.

Is on the piano faculty of the Victoria Conservatory of Music Summer Piano Academy held at the University of Victoria. He participates in the summer as instructor for the Calgary Piano Institute – Mount Royal University; as a guest lecturer at the Point Loma Summer Keyboard Institute in San Diego and is a regular contributor to the Calgary Arts Summer School Association (CASSA).

Mr Gnandt has studied at a number of prestigious institutions, including the University of Washington (Randolph Hokanson), University of Edinburgh, Scotland (Canada Council Grant), and the Juilliard School of Music (Adele Marcus).

His piano students have participated in national and international piano competitions and have gone on to graduate studies at recognized institutions such as: Juilliard School of Music, Manhattan School of Music, Eastman School of Music, Oxford, England; Westminster Choir College, McGill University, University of Toronto, and University of Ottawa.

Edwin Gnandt has served as faculty member at Ambrose University since 1995.

Current projects include an Ambrose University Research Grant for his upcoming book entitled "The Inner World of Frederic Chopin: Psychology, Medicine and the Majorca Experience".
1. Edwin Gnandt: Live in Concert (2010)
Variations On A Theme of Robert Schumann Opus 9, J. Brahms (1833-1897)
Rumanian Dance #1, Opus 8a, B. Bartok (1881-1945)
Papillons, Opus 2, R. Schumann (1810-1856)
Sonata #4, Opus 30, A. Scriabin (1871-1916)
2. A Portrait of Beethoven (2007)
Thirty-Two Variations On An Original Theme in C minor, WoO 80
Sonata in E major, Opus 109
Sonata in F major, Opus 10 #2
3. Piano Music of Chopin and Liszt (2006)
Nouvelles Etude #1 in F minor, F. Chopin (1810-1849)
Etude in C major, Opus 10 #7, F. Chopin (1810-1849)
Ballade in F minor, F. Chopin (1810-1849)
Sonata in B minor, F. Liszt (1811-1886)
Paganini Etude in A minor, F. Liszt (1811-1886)